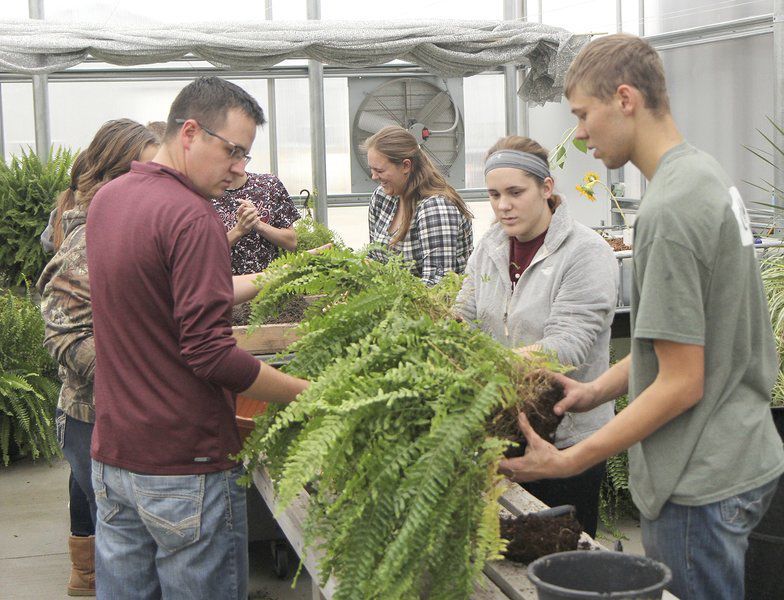 Despite the cold outside A slice of summer inside Greenhouses provide experience for area students
Cary Jackson
Tuesday, January 16, 2018
The weather outside may be frightful, but several area schools have a slice of eternal summer within their greenhouses. The projects are a sign of an expansion of the agricultural science field.
One of the newer projects is the reactivation of the Altamont greenhouse, a former pool shed converted into a working space. It was active for some time, then stopped functioning when the Altamont agriculture science program was discontinued.
The rebirth of the program in Altamont joins greenhouse projects in Beecher City and Dieterich.
Greenhouses are treated both as a laboratory for students and as a revenue source.
At the Dieterich greenhouse, agricultural science teacher Garrett Helregel said students are mostly responsible for maintenance, production, supply ordering and sales.
It's reached the point where a student is providing the weekend care the plants require. This comes as a relief to Helregel, as it means he doesn't have to commute from his family farm near Newton to keep the plants cared for.
Kevin Perkins of Beecher City jokingly refers to himself as a dinosaur, as he nears the end of his 35-year career in education. His building came into being as the result of students becoming interested in the possibilities, he said.
The school board gave the OK, if the students could raise the money for the building.
And that's what they did, he said, which brought out great support from the community.
He said his training was on an older model of large livestock and field crops, one that largely excluded horticulture and greenhouse operations.
Those fields are becoming more popular in the modern era, he said. More importantly, it is giving students the chance to work in the soil and gain real-life experience.
"I play with it. We try anything and everything," he said.
The students may not become greenhouse farmers, but the skills involved can be used elsewhere, Perkins said.
And even those who don't become gardeners or growers learn skills of responsibility and experimentation, he said.
Those have been seen at Oblong High School, which has one of the oldest active greenhouses in the area, administered by agricultural science teacher Kerry Travis. He said that his students have learned responsibility, customer interaction and the realities of business.
The expansion has allowed the programs to purchase products as a group, important when the minimum purchase can be 30 plants, Travis said.
All of the programs rely on plant sales to support their operations, beginning with a certain amount of seed money from the school.
That is used to purchase plants, soil, fertilizer and the other goods needed for the operation. Students then grow plants, commonly mums, which are sold throughout the year. This income is used to replenish the initial money.
Travis said these sales provide a variety of skills, some not directly connected to growing plants.
"Kids today cannot make change to save their lives," Travis said.