Starting with the 2019 – 2020 school year, things will look a bit different at Dieterich Schools. Today they unveiled three new logos that represent a modern upgrade to the proud history of the school and community. The school will continue to embrace the traditional school colors with the classic maroon, pairing with white, gold, and grey while the fonts and graphics of the logos will take on a new, more modern look.
The academic logo includes a crest that embraces the strong culture of the school with its new moto "Empower, Educate, Engage". These values have built the foundation which has garnered recognition as the top school in the Effingham area.
The new athletic logos for the high school and junior high have many similarities that represent the strong bond of the two schools. They each debut a sleeker, tougher roadrunner with touches of the traditional large tail feather and head dress. Strong font choices pronounce the pride the community has in each school. Noting the distinctions, the high school logo includes Movin' Maroons under Dieterich and gold in its color pallet while the junior high includes Roadrunners and grey to replace the gold.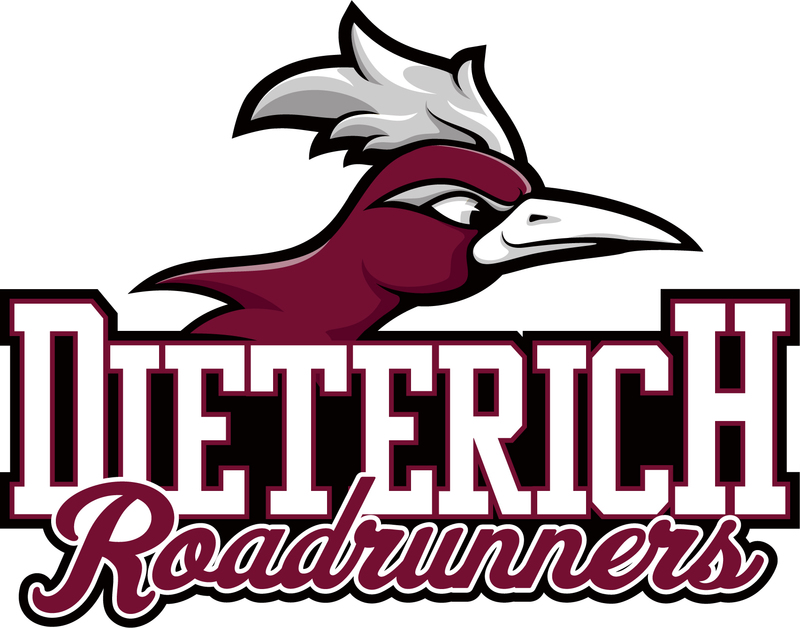 "This project has been exciting to work on. They now match the strong traditions and progressive mindset we have here at Dieterich Schools" said Cary Jackson, Dieterich Schools Superintendent. "The academic logo truly represents the values that our administrators, teachers, staff, students, and parents embrace each day."
Cory Niebrugge, Dieterich Schools School Board President shared that "we are proud of this school and what we have accomplished. We are progressing forward and embracing our roots. These logos speak to what this district is about both academically and athletically. It will be fun to see updates to our building and community as we work to transition from the old logos to the new."
The school's mobile app and website (www.DieterichSchools.org) will be part of the initial transition to the new logos. New logoed items will first be made public at the Dieterich 4th of July celebration. The Dieterich Cheerleaders will be passing out maroon tumblers during the event's parade. The Dieterich Post Prom committee has also created an online store full of merchandise with the new high school athletic logo. The Dieterich Unit #30 Facebook page has information on how to order new gear.