Mrs. May's and Mrs. Pal's fifth grade students recently completed a program titled "Imagine a Day Without Water" with the help of EJ Water. The students received prize bags from EJ Water for completing the project! What a great program and thank you EJ Water!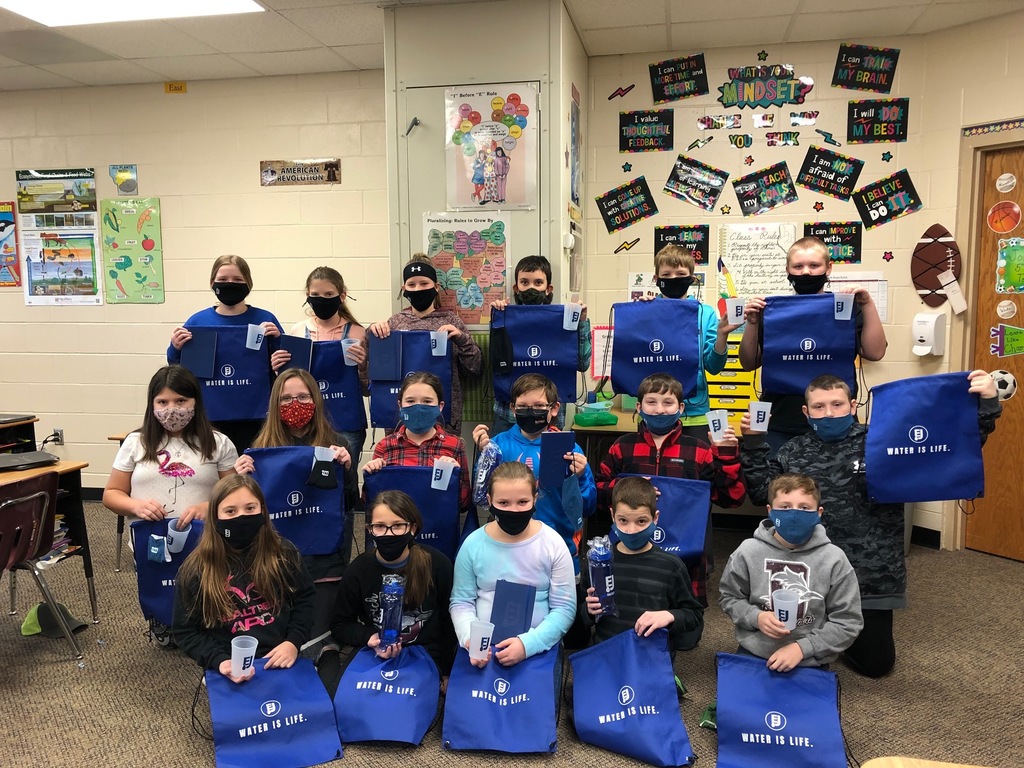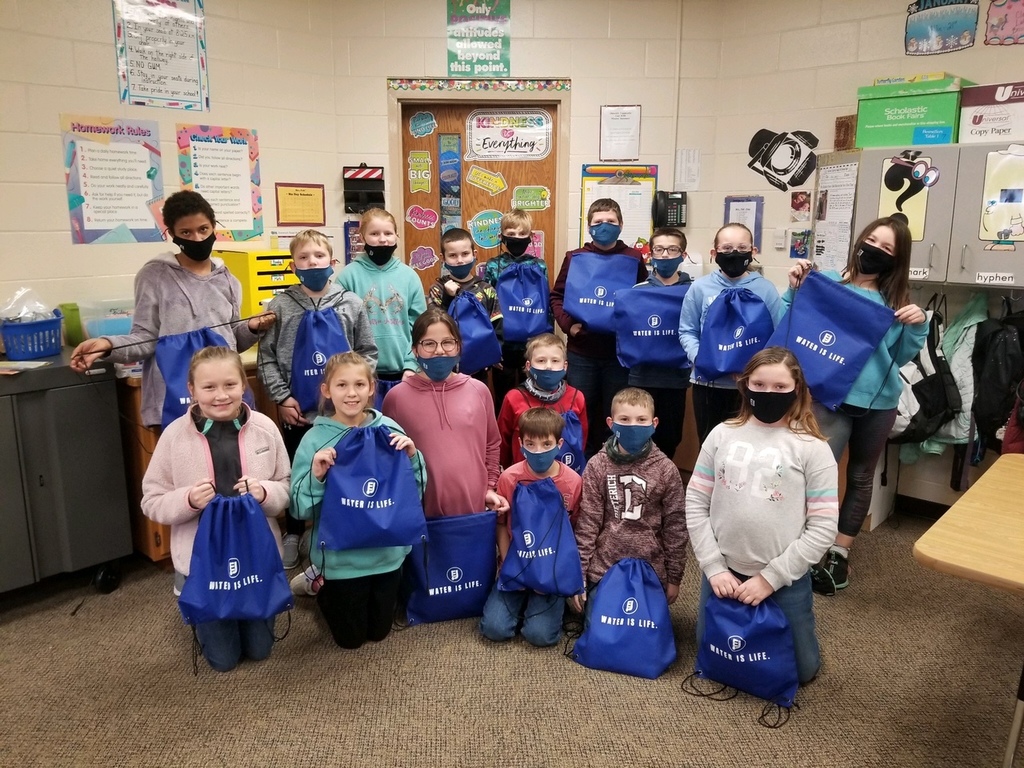 We are beginning to schedule screenings for incoming preschool and kindergarten students for the 2022-2023 school year. Our screenings will be held on March 10th and 11th. Please read the information on the flyer and call Sharon at the Dieterich Elementary office at 217-925-5248 if you would like to set an appointment!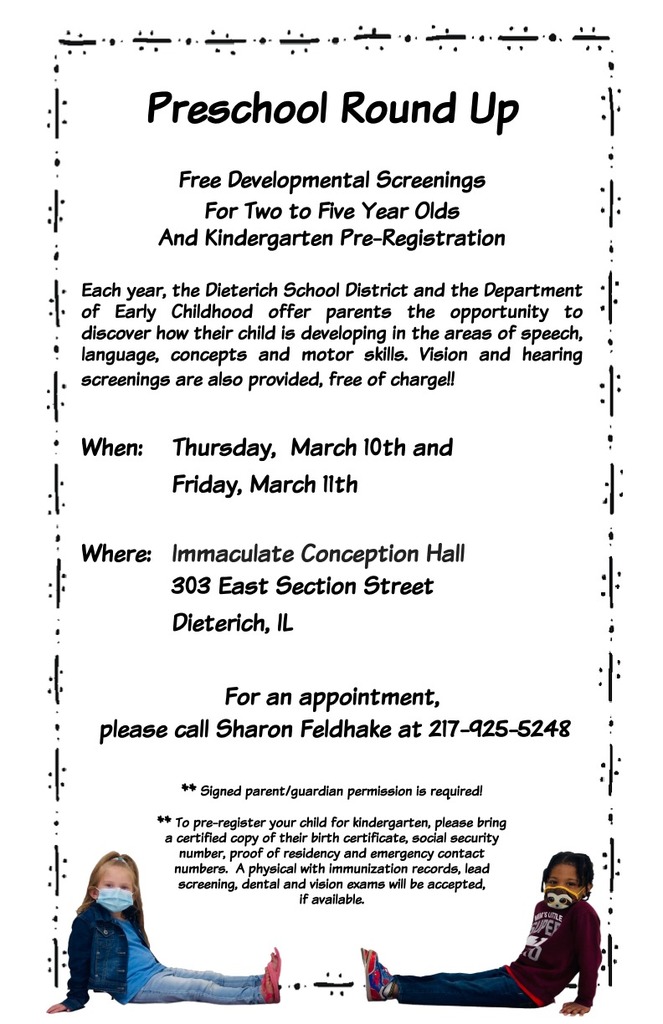 A change was made to the Girls NTC/CIC Shootout at Altamont for tomorrow 1/15/22. Dieterich was originally suppose to play at 10:00am but will now play Vandalia at 11:30am. This will still be the first game of the shootout.

We apologize for the confusion but our new schedules and calendar have an incorrect time for the HS Boys basketball game tonight. The F/S and JV games with South Central at Dieterich start at 5:00. We have mistakenly told people calling in that it was a 6:00 start time since that is what was provided to the office. We apologize for any confusion. It is a 5:00 start time!

We have gotten several questions about the Varsity Boys Basketball schedules since there have been many changes since the original schedule was put out in August. The updated schedule can be found on our website under "Documents", "Sports Schedules", "High School Boys Basketball". A couple things to note: Since Odin now co-ops with Patoka, we are not playing them tonight. And since Oblong, Palestine and Hutsonville now co-op we will only play OPH at Oblong on 1/21, we will not play Palestine or Hutsonville separately so if you have a schedule where they are listed it is incorrect. (We picked up Paris and Effingham to fill those games.) Also, this Friday we play South Central. This will be F/S & JV games only, NO VARSITY.

There have been a couple of calendar changes regarding HS Girls Basketball. The game on January 10th at Windsor has changed to a 6:00 start time. The game on January 11th will now be played at Oblong instead of Palestine.

Results from Day 2 of the Holiday Tournaments: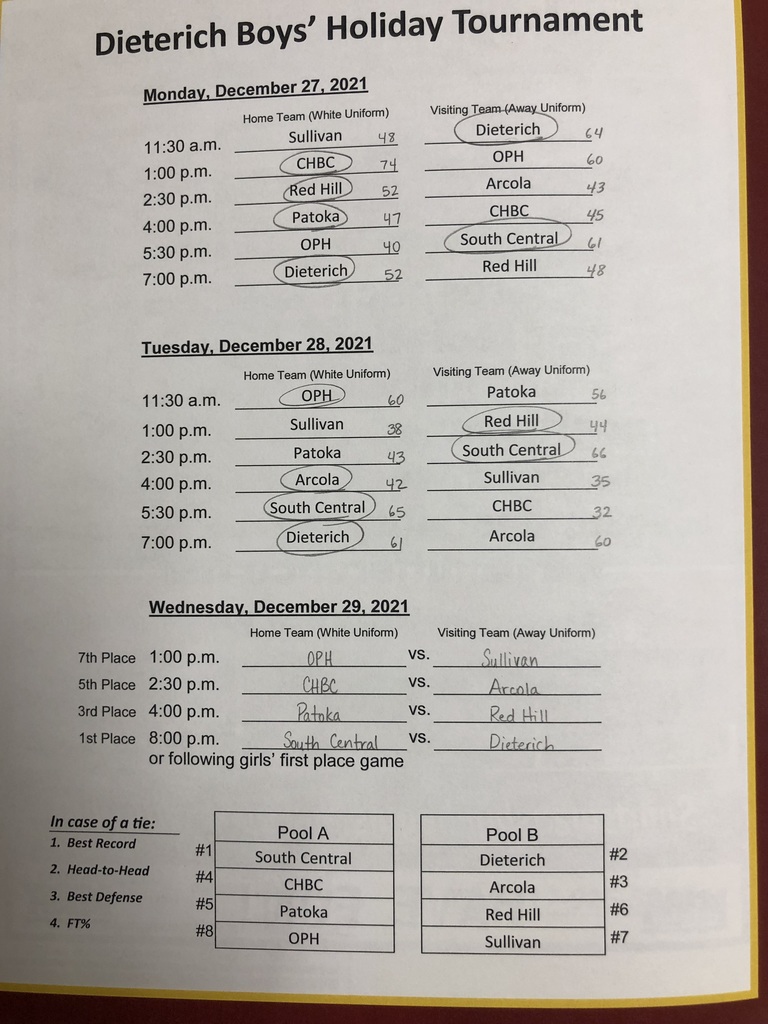 Results from Day 1 of the Holiday Tournaments: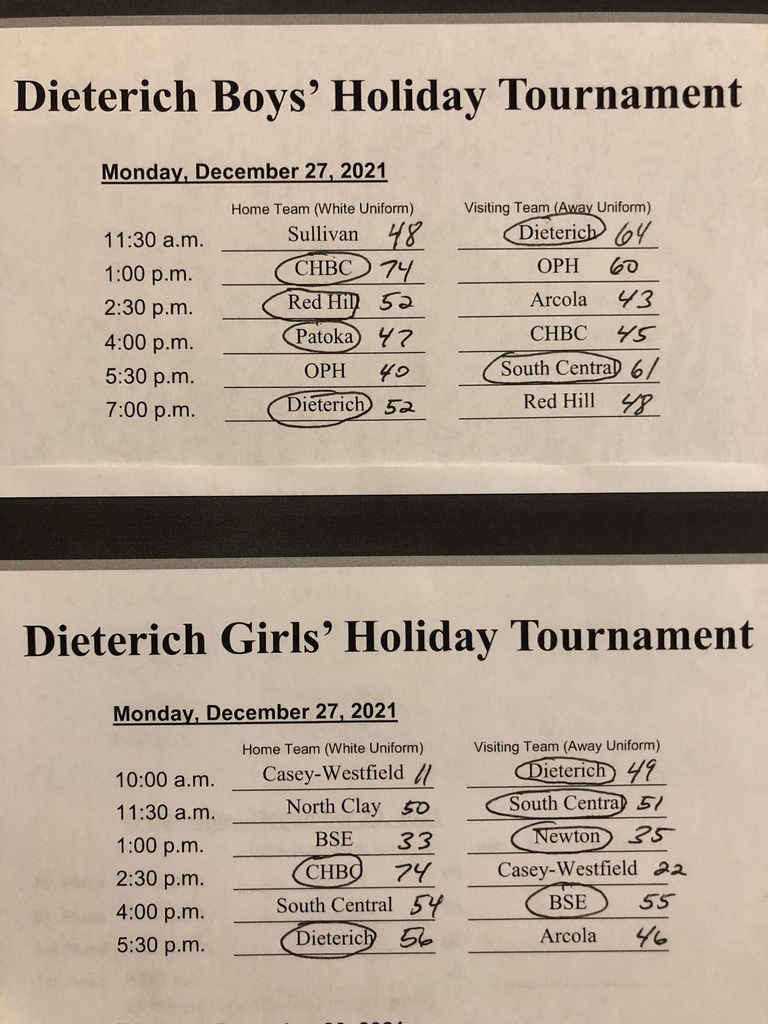 Parents a reminder that today is the last day of student attendance before Christmas break. Students will return for a full day of attendance on Tuesday, January 4th.

Notice of Open Position: Special Education - Elementary Immediate opening or 2022-23 school year. Please submit a letter of application, resume, references and credentials to: Mr. Josh Benefiel, Principal 205 S. Pine St., Dieterich, IL 62424
jbenefiel@dieterichschools.org

The gate money from tonight's Boys Basketball games vs. St. Anthony will be donated to the families impacted by last week's tornadoes. There will also be a special collection taken during halftime of the JV game.

Tonight's Kindergarten through 4th grade Christmas Concert will be streamed on Facebook Live on the Dieterich Unit #30 Fine Arts Facebook page beginning just before 6:00 pm.

There will be an American Red Cross Blood Drive on Tuesday, December 14th in the Dieterich School cafeteria from 2:00-6:00.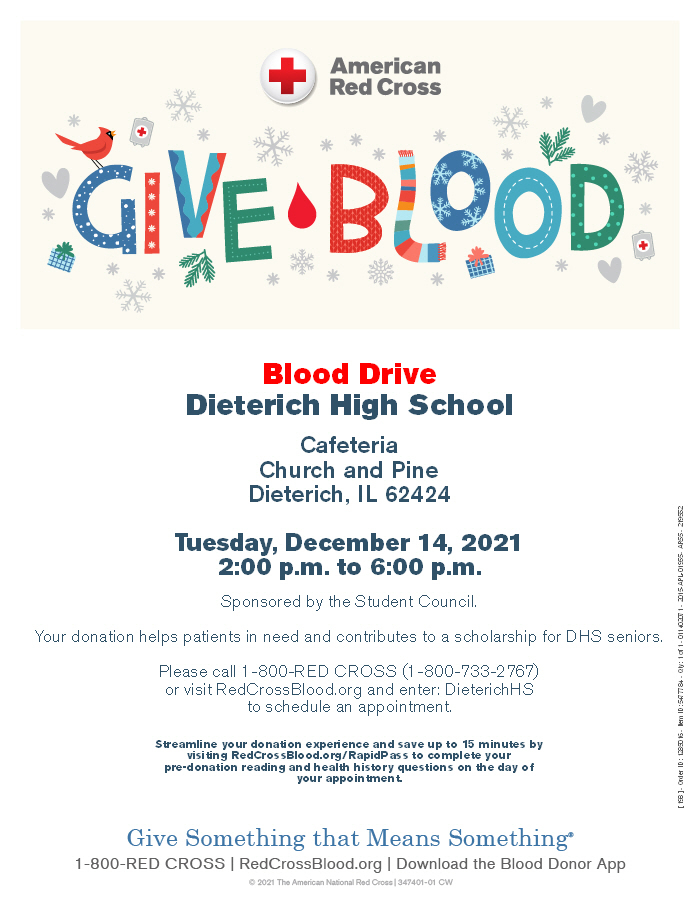 Tonight is the 2021 DHS Homecoming game. Both the JV & Varsity games will be streamed live on both Wabash Cable and on Facebook Live at Catch TV Live Broadcasting. The following link will take you to the telecast:
https://www.facebook.com/wabashcatchtv


Parents, we are continuing to go outside for recess and will do so for as long as possible. Please send your students to school with a winter coat, a hat, and gloves. We have numerous students who are coming to school with just a sweatshirt. If you are missing their coat, please have your student check the lost and found. We have a large collection of coats in lost in found.


Tonight's GIRLS VARSITY Basketball game between Altamont and host school Dieterich has been moved up to a 6:15pm start time. A modified JV game will be played following the varsity contest.

Our Kindergartners had a great time with their Thanksgiving party and costumes!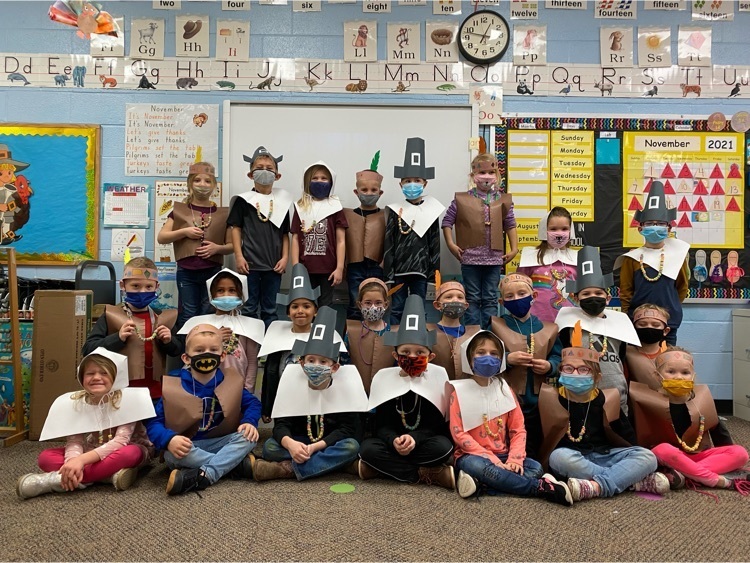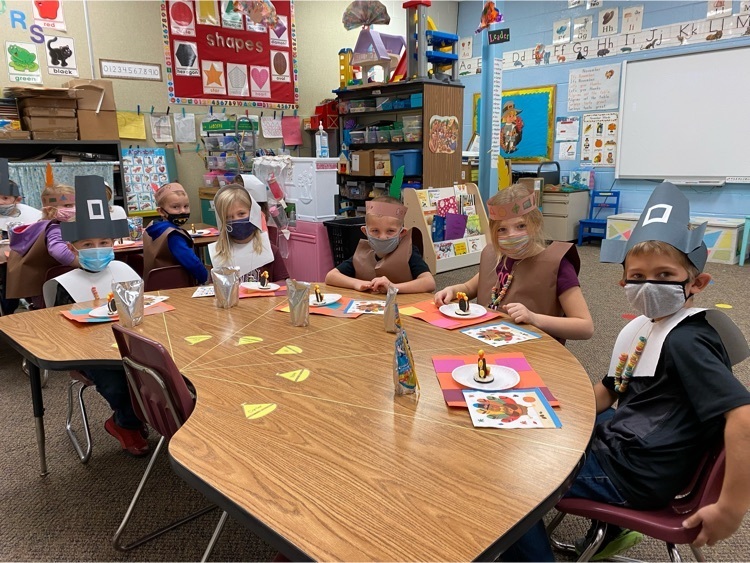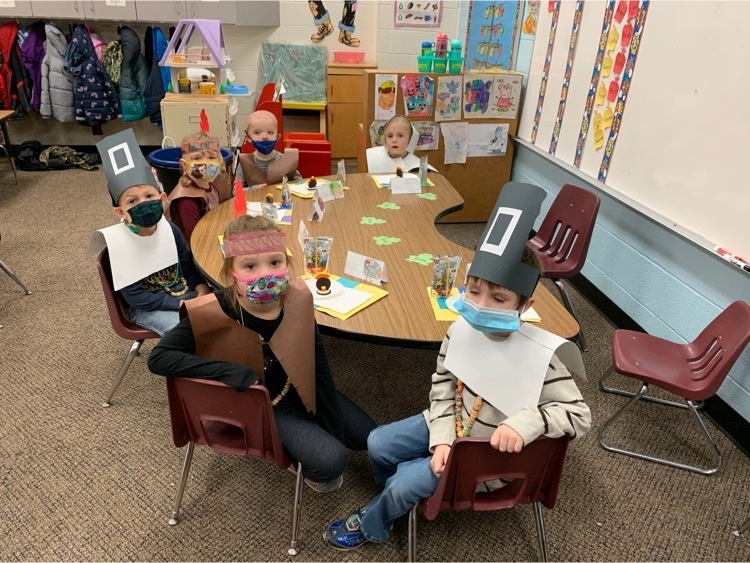 Today our 4th grade students celebrated their 35th annual Thanksgiving Feast! They had some special visitors also!